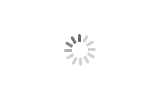 Hand Held Rock Drills Y24 jack hammer
YT24 Pneumatic Rock Drill, Air Leg Rock Drill differs from similar products particularly in its high efficiency, strong flushing and powerful torque. Energy-saving and efficient, long service life of parts, parts highly interchangeable and reliable performance. Air-leg rock drills are fit for wet drilling in medium-hard or hard rock
Hand Held Rock Drills Y24 jack hammer
Related reports:
Maintenance and maintenance of pneumatic anchor drill;
Maintenance of air-leg rock drill jack hammer;
Detailed explanation of the working mode of internal combustion rock drill jack hammer;
YT24 Pneumatic Rock Drill(jack hammer), Air Leg Rock Drill differs from similar products particularly in its high efficiency, strong flushing and powerful torque. Energy-saving and efficient, long service life of parts, parts highly interchangeable and reliable performance. Air-leg rock drills are fit for wet drilling in medium-hard or hard rock.
Introducing the Y24 Jack Hammer with Air Leg by Liaoning Gaea
Designed specifically for rock drilling applications, this powerful jack hammer is engineered to deliver outstanding performance and efficiency, making it an indispensable tool for mining and construction projects.
The Y24 Jack Hammer stands out among its counterparts due to its unique feature - the Air Leg. The integration of an air leg provides enhanced stability and support during rock drilling operations. This innovative design allows for improved precision and control, making the Y24 an excellent choice for tasks that require accurate and efficient drilling in various rock formations.
Equipped with a robust pneumatic mechanism, the Y24 Jack Hammer delivers a high impact energy that ensures efficient rock fracturing. The powerful blows generated by this jack hammer's advanced technology enable rapid penetration through even the toughest rock surfaces. With the ability to handle a wide range of drilling tasks, the Y24 is a reliable and versatile tool for demanding rock drilling applications.
The Y24's air leg not only enhances stability but also reduces operator fatigue. By providing a stable base, it minimizes the vibrations transferred to the operator, resulting in reduced strain and improved comfort during prolonged drilling sessions. This ergonomic design feature significantly enhances productivity and safety, allowing operators to work efficiently and effectively for extended periods.
Durability and longevity are key considerations in the design of the Y24 Jack Hammer. Crafted from high-quality materials, this rock drilling tool is built to withstand the harsh conditions of mining and construction sites. The Y24's components are precision-engineered to ensure consistent performance and durability, reducing downtime and maintenance costs.
With its compact size and lightweight construction, the Y24 Jack Hammer is highly maneuverable, even in confined spaces. This makes it particularly suitable for operations in narrow tunnels and tunnels with limited overhead clearance. The Y24's portability and ease of use enable operators to navigate challenging environments with ease, maximizing productivity and efficiency.
Furthermore, the Y24 Jack Hammer is designed to be user-friendly, allowing operators of varying experience levels to handle it with ease. Its simple yet efficient control system ensures intuitive operation, enabling quick adaptation and proficiency. This user-centric design feature further contributes to enhanced productivity and reduced training requirements.
In summary, the Y24 Jack Hammer with Air Leg is an exceptional rock drilling tool offered by Liaoning Gaea. Combining its powerful pneumatic mechanism, innovative air leg design, ergonomic features, and durability, the Y24 is a reliable and efficient solution for various rock drilling applications. Experience enhanced stability, reduced fatigue, and increased productivity with the Y24 Jack Hammer.
Contact us at Liaoning Gaea to learn more about the Y24 Jack Hammer with Air Leg and discover how it can revolutionize your rock drilling operations.
Description:
Pneumatic jack hammer(pneumatic hammer drill),This product is widely used in metallurgy, coal industry, road construction, mining and other drilling operations.Hand hold rock drill machine, hand hammer drilllow weight,reasonable structure,handy use and little air consumption.hand-hold rock drill machine is a tool for the secondary blasting in quarry and especailly for rocking 20mm hose in marble and granite,it has characteristic of low weight,reasonable structure,handy use and little air consumption
Pneumatic demolition hammer Competitive Advantage:
1). save energy and high efficiency
2). strong impact energy
3). low vibration
4). easy handling
5). low noise
6). wet drilling
7). easy cleaning air /water holes
8). spare parts easily purchasing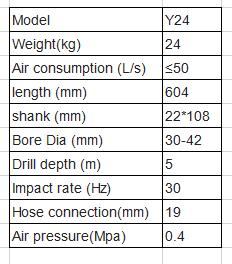 FAQ:
1.How do I maintain a jack hammer?
Regular maintenance of a jackhammer involves cleaning the tool after each use, checking and replacing worn-out parts, lubricating moving components, and storing it in a dry and safe place.
2.Can I use a jack hammer indoors?
Yes, jackhammers can be used indoors, but precautions must be taken to minimize noise and vibration. It's important to ensure proper ventilation and use appropriate noise-dampening measures.
3.What is a jack hammer?
Answer: A jack hammer is a powerful handheld tool used for breaking and demolishing hard surfaces, such as concrete, asphalt, or rock.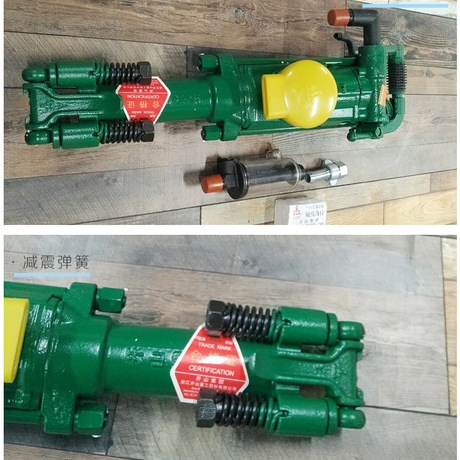 Workshop: