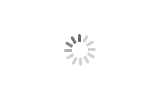 Hydraulic rock splitter,electric power peak rock splitting machine
Gaea

China

10 days

1000sets/month
Hydraulic splitting rods are also called rock splitting rods, rock breaking rods, rods, stone splitting tools, rock breakers, rock splitting rods, concrete splitting rods,rock splitter machine,rock splitter,used hydraulic rock splitter for sale,rock splitting equipment etc.
Hydraulic rock splitter,electric power peak rock splitting machine
Related reports:
Special equipment for drilling and blasting of hydraulic rock splitting machine;
Features of hydraulic Rock Splitting Rod;
A brief introduction to the hydraulic rock splitter manufacturers;
Electric-powered hydraulic rock splitter introduction:
The electric-powered hydraulic rock splitter, proudly manufactured and distributed by Liaoning Gaea. As a trusted player in the industry, we strive to provide cutting-edge solutions that redefine rock breaking in various applications.
The electric-powered hydraulic rock splitter, also known as an electric hydraulic stone splitter, represents a revolutionary advancement in rock breaking technology. Powered by electricity, our rock splitter combines the advantages of hydraulic force with the convenience and environmental benefits of electric power. It is the ideal choice for applications in mining, construction, and civil engineering where a reliable and efficient rock breaking solution is required.
At Liaoning Gaea, we understand the diverse needs of our customers. Our electric-powered hydraulic rock splitter is engineered to deliver exceptional power and precision, allowing for efficient rock fragmentation in a wide range of conditions. With its robust electric motor, our rock splitter provides consistent splitting force, ensuring rapid and effective breaking of rocks, boulders, and concrete structures.
The integration of electric power offers several key advantages for our hydraulic rock splitter. Electric motors provide reliable and continuous power, ensuring uninterrupted operation without the need for refueling or emissions associated with fossil fuels. Additionally, electric-powered hydraulic systems offer precise control, allowing for optimized fragmentation and reduced energy consumption, resulting in increased productivity and cost savings.
Safety is of paramount importance to us. The electric-powered hydraulic rock splitter incorporates advanced safety features to ensure the well-being of operators and the surrounding environment. Safety interlocks, emergency stop functions, and protective guards are standard features, providing a secure and reliable operating experience. Furthermore, the low noise emissions of the electric motor contribute to a quieter and more comfortable working environment.
Liaoning Gaea takes pride in our manufacturing excellence and commitment to quality. We employ stringent quality control measures throughout the production process to ensure that each electric-powered hydraulic rock splitter leaving our facility meets the highest industry standards. Our skilled technicians meticulously assemble and test each unit, guaranteeing durability, performance, and customer satisfaction.
Customer satisfaction is our top priority. We provide comprehensive after-sales support to our valued clients. Our experienced technical team is available to assist with installation, training, troubleshooting, and maintenance, ensuring that your electric-powered hydraulic rock splitter operates at optimal performance throughout its lifespan. We also maintain an inventory of readily available spare parts, minimizing downtime in the event of component replacement.
In conclusion, the electric-powered hydraulic rock splitter by Liaoning Gaea represents a breakthrough solution for efficient rock breaking. With its electric power source, exceptional performance, and robust construction, our rock splitter offers reliability, productivity, and environmental benefits in mining, construction, and civil engineering applications. Trust in our expertise, and experience the power and versatility of our electric-powered hydraulic rock splitter.
For detailed information, technical specifications, and personalized assistance, please do not hesitate to contact us. We are dedicated to meeting your specific requirements and exceeding your expectations.
Introduction of Hydraulic splitting rods:
Rock splitting rods are a new product developed by us, splitting rods It consists of a hydraulic pump station and a splitter. The splitting rod is driven by the high-pressure oil from the pumping station to drive the cylinder to generate a lot of driving force. After being mechanically amplified, the object can be split in a predetermined direction.
Introduction to the cracking stone rod:
The cracking stone rod replaces the crushing method of and. The rock cracker must have a volley surface when using the rock cracker.
1. The volley surface must be manufactured first, and the method of manufacturing the volley surface includes drilling oblique holes and core drilling machine manufacturing;
2. After the volley surface comes out, drill a hole on the side of the volley surface, and then put the rock in the cracking rod hole. The rock can be split in about 5-12 seconds. The output of the rock depends on the drilling speed and the slag removal speed. .
Suitable for silent mining of various hard rocks, granite, volcanic rock, quartzite, basalt, quartz porphyry, siliceous schist, sandstone, limestone, marble, dolomite, pyrite, etc. A large amount of stone is mined silently, the breaking hammer cannot be moved, the expansion agent cannot be separated, the splitting machine is slow, and the hydraulic splitting rod is a wise choice.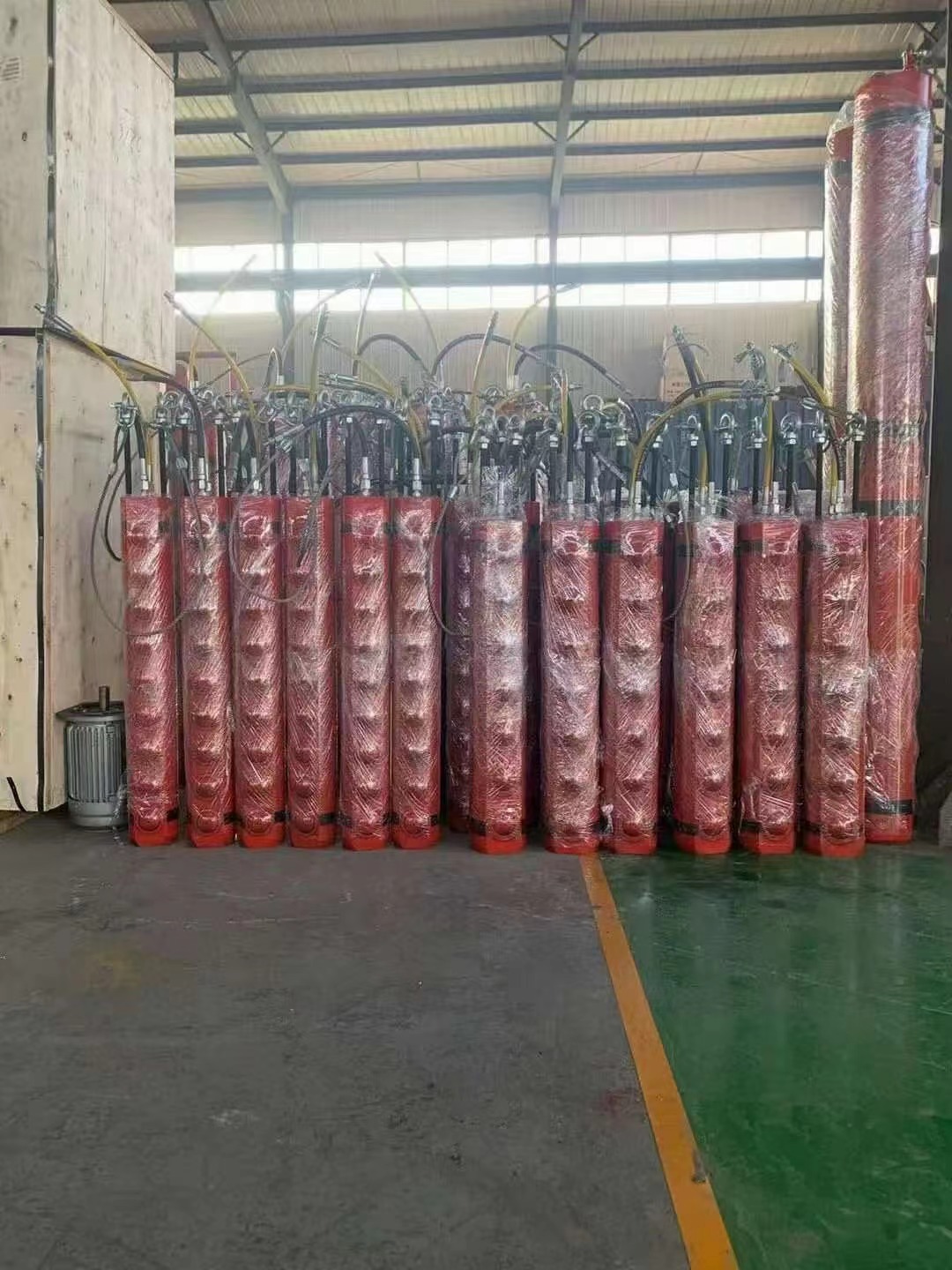 1. The main function of hydraulic splitting machine:
1. The mining of blocks in the quarry, the second disintegration of large ore (metallic or non-metallic);
2. Partial and complete operations of concrete components (cement pavement, machine tool foundation, bridge and house components);
3. Demolition of concrete structures indoors or in narrow spaces;
4. Excavation of ditches and other rocks, etc.
2. Which application fields and industries are it suitable for?
1. Quarrying and mining industry
01. Mining of large blocks; mining of blocks of thousands of cubic meters can be realized.
02. Segmentation of large blocks; the production of blocks of less than 1 cubic meter can be realized.
03. A large piece of waste rock, level the site.
2. Construction project
01. Digging.
02. Extension of underground mine tunnels.
03. Highway hole and excavation.
04. Subway excavation.
05. Seabed excavation.
06. Underground artificial river excavation.
3. Demolition project
01. Demolition of concrete and reinforced concrete.
02. Demolition of old houses.
03. Demolition of the old building.
04. Demolition of the old bridge piers.
05. Old ground.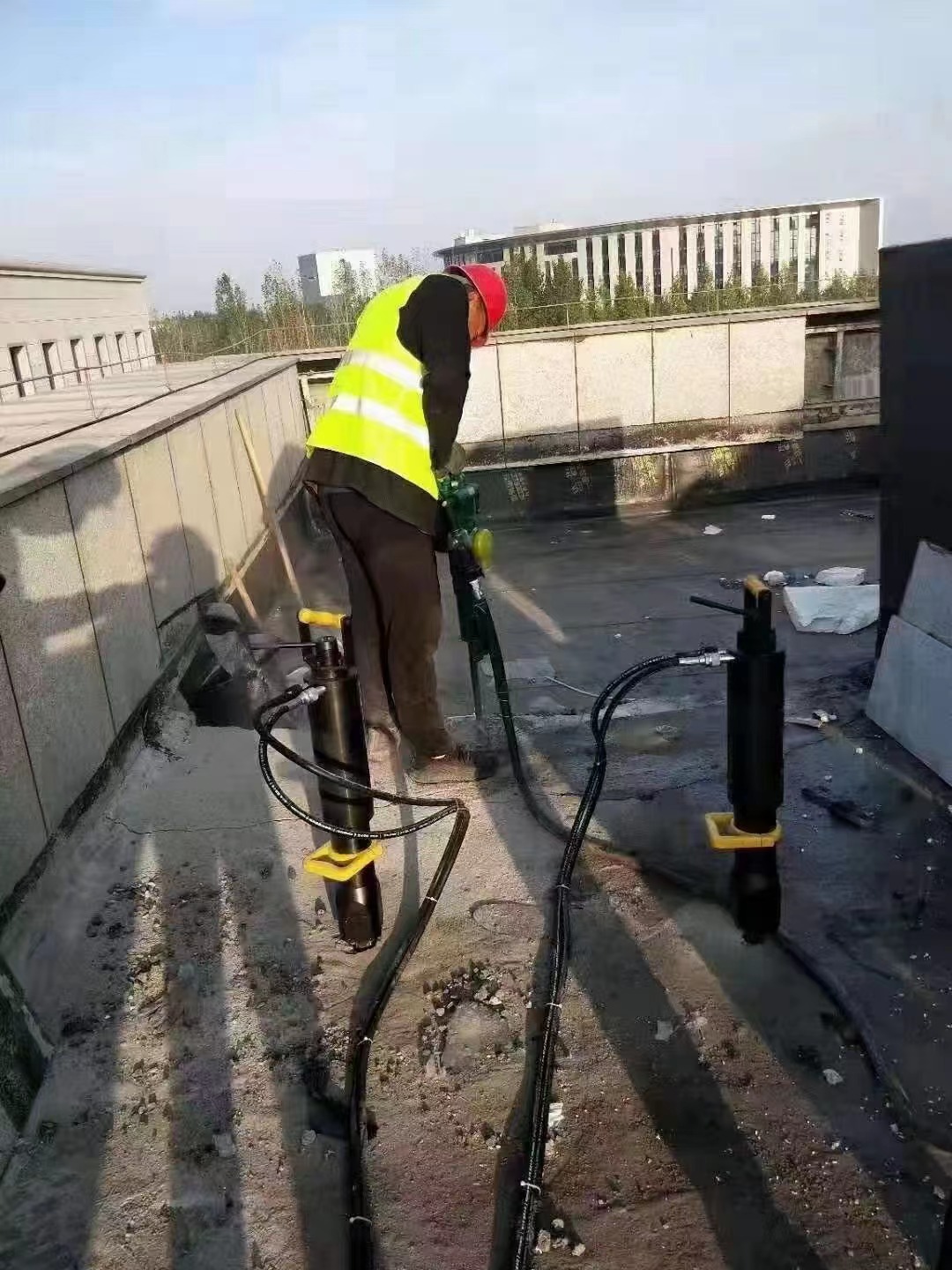 Static rock blasting hard rock breaking operation process The specific operation is to determine the direction and cross-sectional drilling depth of rock demolishing and the number of splits selected according to the thickness, volume and fractured layer of the stripped rock layer or disintegrated rock; on the cross section Drilling a hole with a depth of ~ cm is for efficiency. The drilling operation can be carried out in advance; splitting can be demolished according to the fractured layer. The economic consumption of the hydraulic splitter break-down method is electricity, labor, wages, and mechanical loss; while the breaking hammer operation basically selects "rental machinery with operators", and its economic consumption is high rental fees and consumption of diesel energy.
After the rock cracks, the reversing valve is closed, the piston rod and the inner wedge are retracted, and the split is lifted to complete the splitting operation. The rock splitting machine aims at hard rock that is difficult to break and remove. It is a gravel equipment for major building demolition and road construction projects. To ensure that everyone can improve work efficiency at the same time, the rock splitting machine chooses Gaea Rock.
FAQ:
1.What safety precautions should be taken when using a Hydraulic Rock Splitter?
Safety precautions include wearing appropriate personal protective equipment (PPE), following manufacturer guidelines, ensuring proper training of operators, and securing the work area to prevent accidents.
2.Can a Hydraulic Rock Splitter be used for both small and large-scale projects?
Yes, Hydraulic Rock Splitters are versatile tools suitable for both small and large-scale projects. They can be used for individual stone splitting or in combination with multiple splitters for larger operations.
3.Can a Hydraulic Rock Splitter be used in remote locations?
Yes, Hydraulic Rock Splitters can be used in remote locations. They are often portable and can be transported to remote sites for stone splitting operations.
4.What is the expected lifespan of a Hydraulic Rock Splitter?
The lifespan of a Hydraulic Rock Splitter depends on factors such as usage, maintenance, and the quality of the equipment. With proper care, they can last for many years.
5.Are there different types of Hydraulic Rock Splitters available?
Yes, there are different types of Hydraulic Rock Splitters available, including Diesel power Hydraulic Rock Splitters, electric power Hydraulic Rock Splitters. Each type has its own unique features and benefits, catering to various rock splitting requirements.